Over the last one year, we have been sailing through an unprecedented time where COVID-19 has taken a toll on everyone's life ; it being professional or personal. During the first wave, we learnt to adjust ourselves to the "new normal", with nations across the globe in lock-down for an indefinite period of time. Technology became our biggest strength to ensure business continuity. Most businesses carved their ways to survive and sustain in this time, forcing business leaders to take tough decisions involving risk and uncertainty.

Slowly, with the falling number of cases, we became hopeful of returning to our new normal life, but again our lives came to standstill with the sudden strike of the second wave, even more vigorous and devastating. It was a distress to see so many people lose their lives, fighting to survive against this deadly virus. Avineon, as an organization, therefore extended its support to its employees by forming an emergency task force, available 24*7, and, in addition, supported the needs of the larger community by collaborating with NGOs. Now, with the nation-wide vaccination drive, we are again seeing a ray of hope for returning to "business as usual", ensuring our employees and their families are fully vaccinated.

"Adopting technologies, working in digital collaborative environments, analytics, automation, and, as always, innovation will become mandatory to sustain and grow businesses. However, most importantly, leaders today must build resilience in an organization's operational and business workflows."
My twenty-plus years with Avineon have been such a great experiential journey, filled with many learnings about business management, technology adoption for innovation and competitiveness, and building great teams through great leaders. The last twenty years have also been a period of tremendous technology advances in the areas of telecom, cloud, IoT, energy, data storage, robotics, digital twins, data science, and, in recent times, AI/ML.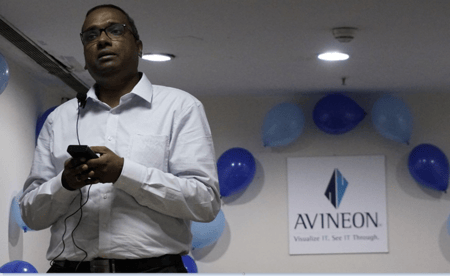 In view of every advance that these technologies have made, today's organizations are now able to deliver services and solutions digitally, in a highly collaborative manner, from anywhere. Organizations can now acquire, store, access, and process huge amounts of both structured and unstructured data, empowering professionals with insightful analytics, historical or predictive, for real-time, on-demand, decision making like never before.
Today, with the onset of COVID-19, every organization has transformed itself in many ways; kudos to the leaders in each organization who made these transformations happen. When I reflect back at my many years of being in a leadership position at Avineon as the head of its APAC business operations, I have realized that if there is one thing we can be sure of, it is that there will always be some major challenge that will present itself every once in a while, it being the dot com bubble burst in late 90's, the global economic meltdown in 2008, or the COVID-19 pandemic, which will test the fundamental leadership principles with which you operate.
Throughout all these challenging times, I discovered the importance of establishing "a sense of belongingness", "a sense of ownership", and "an environment of trust" among both employees and front-line leaders to enable the acceptance of, and arrival to, amicable solutions that drive transformations required to adapt to the change imposed on an organization. Working at Avineon, and dealing with many of such challenging scenarios, I have seen that, whenever employees and leaders decide to come together, get a clear understanding of the challenges in front of them, collectively work out an action plan, communicate with each other, and join forces, while all the time collaborating in an environment of trust and driven by a sense of belongingness and ownership, a way forward evolves and huge walls of insurmountable challenges suddenly begin to collapse.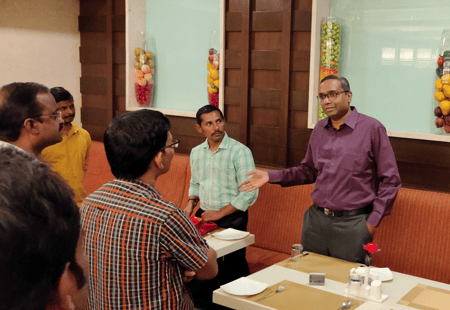 Such an atmosphere of trust and collaboration, however, does not arise one fine day when exigencies hit an organization. Such values are ingrained by leaders throughout Avineon, during the normal course of business, on a day-to-day basis, and in many different ways: by creating an environment where employees can freely communicate with them ; by being empathetic to employees' issues and challenges ; and by facilitating pathways for employees to meet their career goals and ambitions, encouraging employees to continuously learn and grow and, most importantly, by being guides and mentors to them.
The front-line leaders hold teams together, making sure employees feel wanted and belonged, and instilling a sense of ownership towards the work they perform. At Avineon, although I personally hold an executive leadership position, taking decisions in many challenging circumstances on the most appropriate pathways to consider and move forward, all transformations have, eventually, been owned, managed, and driven by front-line leaders. With every surmounted hurdle, our team grew closer and our belief in overcoming any possible future challenge strengthened.
In addition, every crisis forces changes and transformations on a large scale which we, typically, would not risk executing under "normal circumstances". The technical feasibility to efficiently and accurately work from anywhere, for example, was a risk that most leaders were never ready to take prior to COVID-19. Although the various technologies needed to facilitate such a transformation were largely known and understood, a major pandemic like COVID-19 forced this transformation and proved that alternative ways for working are, indeed, feasible. Employees can be trusted to take care of their performance and the technology available today can be installed in every tiny village if needed.
It has been an amazing experience to see how the entire broadband industry in India moved their focus to serving residential connections, as against commercial connections. The sheer human spirit to continue business and everybody contributing their bit to push things forward, even under restrictive and life-threatening circumstances, is utterly amazing. Throughout the COVID-19 pandemic, many organizations faced this all, building more resilience by adopting technologies that enable to work from anywhere.
The fact that we can state that, today, we are better prepared for a 100% switch to a "working from home" or "working from anywhere" mode within a 24-hour time frame is a great transformation, driven by a crisis scenario that is set to create a new paradigm, a new balance, and a new ecosystem, ultimately defining the way in which we will work in the future.
Adopting technologies, working in digital collaborative environments, analytics, automation, and, as always, innovation will become mandatory to sustain and grow businesses. However, most importantly, leaders today must build resilience in an organization's operational and business workflows. An organization's ability to seamlessly switch from "working at the office" to "working from anywhere" in combination with the ability to scale up or scale down and efficiently manage resources ; the ability to be global, but yet very local in operations ; the ability to be very large, but yet nimble ; and the ability to continuously and persistently ideate, automate, and innovate with a focus on value creation will all determine an organization's proficiency to sustain, compete, and grow.