I believe life is a platter of choices and responsibilities, without which the words render themselves hollow. Yet my experiences, right from my childhood, taught me that responsibilities rarely leave enough room for choices. Consequently, I always had to be on my toes to look for opportunities and grab them. In my formative years growing up in India, it was a common expectation that a child should either be a doctor or an engineer, and if someone was not fitting into that, he or she was considered a failure.
While I was in my 10th grade, I joined a commerce course, which most people around me did not consider worthwhile. I, however, very quickly realized that this was, in fact, the area where my interests pulled me. I waited for my 12th grade to be over so that I could join my Chartered Accountancy course. Thereafter, there was no looking back. I completed my bachelor's in commerce in 1988 and in 1991 my master's at Osmania University. In 1995 I became, to my great joy, an Associate Member of The Institute of Chartered Accountants of India, which is India's most prestigious institute that every commerce graduate aspires to be associated with.

It has been a long work-life journey since then. Looking back now, so many situations, experiences, and learnings have come my way. Fortunately, I have always enjoyed my work; it has been my life. Even when I worked day and night, rather than feeling tired, I would feel energized. I started my professional journey from a leading hospital in the healthcare sector as a Finance Manager and later got a wide exposure to work in international environments with several other organizations from different sectors.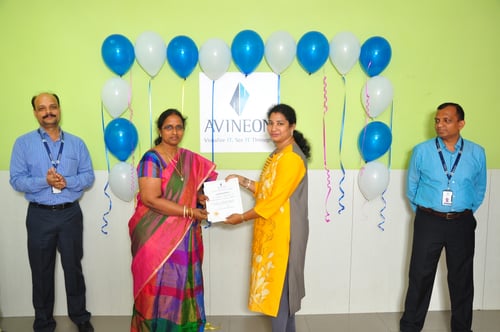 In 2007, I joined as Vice President-Finance at Avineon, a global leader in geospatial, engineering support and IT solutions with multiple offices across the globe and headquarters in the USA.
I was entrusted with the responsibility to build and modernize the financial systems by implementing an ERP system that integrated multiple operation and business systems, automate periodical Management Information System for financial control, and optimize key processes such as payroll, asset accounting and procurement, to bring internal financial control.
Besides being a good team player, my technical expertise, focus, and willingness to work hard helped me to lead my team across all these departments and attain success. Today, Avineon has the capacity to grow multi-fold with self-funding and the company is run debt-free.

Gender inequality is a big challenge in front of women. Though the world has changed a lot in the recent past, we still see very few women in senior leadership roles in many corporate organizations. It requires commitment of top management to accept women in a leadership role. Women leaders often bring diversified views and perspectives to be considered by the top management. Things have been changing gradually though, at a slow pace. We are seeing women taking bold and wise decisions as leaders; they help in terms of making team environments less authoritative and more cooperative by bringing a family-like feel to the team. This, in its own turn, boosts teamwork across the organization and helps to evolve a new business culture.

"A leader is like a shepherd. He stays behind the flock, letting the most nimble go out ahead, whereupon the others follow, not realizing that all along they are being directed from behind."
- Nelson Mandela.

Literally following this quote, in both letter and spirit, has helped me overcome each challenge that I faced, and there have been quite a few. It would be wrong to say that there were not bottlenecks in my journey. I have seen many ups and downs, faced multiple challenges in both my work and my personal life, and had to endure a lot of stress at almost every stage. There are a couple of things that have helped me in overcoming these stresses and challenges.

One, I always look at a problem from different angles and perspectives and try to think about all possible solutions and prioritize them in action. Secondly, being patient and always thinking positively are two virtues I always strive to maintain when I am facing a major crisis or challenge. A positive attitude opens our mind to explore options and solutions, allowing us to work towards surmounting the challenge with patience. This approach has allowed me to focus on those areas that are financially and operationally important and helped me to quickly deliver high-impact solutions.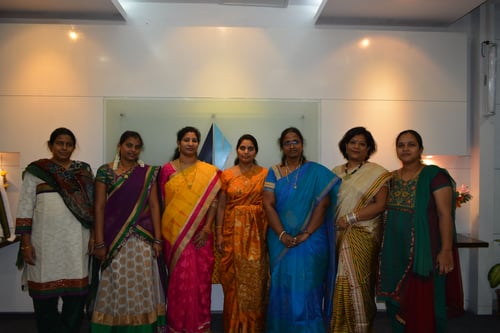 Work-life balance is important for everyone, but especially for women leaders. It's important to create a healthy working environment. This not only enables us to work efficiently, but also allows us to enjoy our work. Fortunately, I had little issues in terms of work-life balancing. I have had the good fortune of being able to rely on a good, strong, and loyal team, in addition to receiving support from my great family, especially my parents, friends and colleagues.

This is my 15th year at Avineon as Vice President- Finance. It's been a long journey and there were many instances where I needed support in my life. Avineon has always been with me, in all possible ways, just like a "second family". Although I am the only woman in the senior management team in the India office, I have never felt singled out; in fact, I was always considered at par with all my other senior colleagues.

By nature, and by compulsions of our society, every woman is a multi-tasking crusader, committing 100% to any job given to her and performing it with total focus. Like I said earlier, in our stereotyping environment, opportunities rarely show up, but if one arises, one must grab it with both hands. Patience is a virtue a woman is born with, which would help her in terms of establishing her mark and, in its turn, will pave the way to climb up the ladder.

While it's common for one to expect immediate results and fast-tracked career growths, in the long run, goal setting, relentless focus, and consistent effort are a must to achieve what you aspire. Needless to say, achieving your goals becomes less troublesome if you are transparent, truthful, and move with a positive mindset