Avineon will be present at Trefdag Digitaal Vlaanderen 2021, the govtech-community for Flanders. The event will take place November 24 - 26 in ICC Ghent. Come visit us and discover the importance of digital transformation in building the smart governments, cities, and utilities of tomorrow.
Trefdag Digitaal Vlaanderen, November 24 -26, 2021 | ICC Ghent
The government of tomorrow is being built today. With organizations, governments, and utilities accelerating their transformation to not only act digitally, but to truly be digital in an increasingly digital society, digitalization has never been higher on the agenda. Data-driven decision making and agile, lean processes are becoming increasingly important, enabling organizations and governments to work faster and smarter by leveraging the right technology, data flows, and (spatial) intelligence.
The event is focused around four main tracks:
#smart: Discover how technology and data can be used in tackling the major societal challenges we are facing today, such as mobility, the environment, health, quality of life, etc., and explore the possibilities of new technologies and innovations with regard to creating the smart and connected regions and cities of tomorrow.


#data: Although data in itself enable governments to work more efficiently, automate processes, and thus improve services to citizens and businesses, the sharing of data, both within and outside the government, holds even more power. By focusing on standardization and the deployment of high-quality data, data can truly generate a high social added value.


#lowtouch: Thanks to simplifcation, the assembly of data around the user, and the smart linking of data and processes, slow and complex government processes are a thing of the past! Discover the latest solutions and apps that enable governments to create a better and more integrated experience for their citizens, businesses, and associations.


#pods: Being at the top in terms of sharing personal data comes with a big responsibility. Explore both today's and future possibilities in terms of personal online data stores and discover how Flanders will become the "powered by data" society of tomorrow.
3D city models are a crucial component in terms of building the digital and smart cities of tomorrow, enabling efficient decision making in matters of urban planning, safety, energy efficiency, mobility, tourism, etc. However, to allow governments to serve their citizens and entrepreneurs as proactively as possible, a secure environment is needed that allows parties (governments, citizens, etc.) to access and operate the 3D model. Such an environment is called a "Digital Twin".
Avineon can provide the high-quality 3D digital twin that you need! Avineon's expertise in terms of high-quality 3D city modeling is combined with our Tensing team's expertise in Esri technology and GIS consultancy, allowing us to create a 3D city model with a very detailed geometry that is made available in an easy-to-use environment.
Our digital twin, in addition, integrates the "EBECS tool" of VITO/EnergyVille. "EBECS" is an energy renovation tool that stands for "EnergyVille Building Energy Calculation Service". The algorithms in the tool provide targeted advice in terms of how to improve energy efficiency by combining information on actual building size with information on the actual energy consumption of the residents. This unique combination makes EBECS the most accurate energy renovation tool currently available. The tool allows to simulate different renovation scenarios, displaying the costs, yields in energy efficiency, and payback period for each scenario.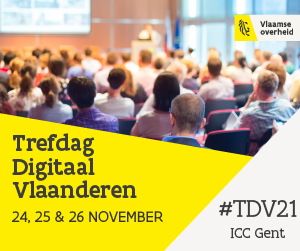 Curious? Come visit us at #TDV2021 to learn more about our high-quality digital twin for 3D city and infrastructure management. Avineon will be present at booth Ba15 with a live demo, and VITO/EnergyVille will be present at booth BU21 & BU22. (Click here to access the full exhibition plan or consult the complete program here).
Considering the safety of everyone present, your CovidSafeTicket (CST) will be scanned upon entering the ICC. Only people with a valid CST will be granted access to the event. We are excited about this event and cannot wait to start building the smart cities, communities, and governments of tomorrow.
We hope you share our enthusiasm and we hope to see you at #TDV2021!