Tensing, an Avineon holding company that specializes in consultancy, software (including Esri Utility Network and FME), and training in Europe, was highlighted for successful work in Esri's recently published eBook.
The eBook focuses on global use cases across various domains that demonstrate "concrete improvements to infrastructure and management" and explore "improvements to asset management, operations, planning and engineering, customer care, and network management." The eBook, entitled Making Utility Customers Successful, Powered by Esri Partners, highlighted Tensing for migrating Pidpa, a Belgian water utility, to the Utility Network.
Pidpa, one of the largest water companies in Belgium, serves more than 1.2 million residential and commercial customers. In a relationship spanning many years, Pidpa has relied on Tensing's assistance in transitioning to a fully implemented GIS that focuses on digital collection of field data, increased system analytics, and the creation of new custom applications. Tensing's migration of Pidpa to Esri's ArcGIS Utility Network marks an evolution of Pidpa's GIS adding new possibilities for integration and enterprise use. Our team's technical expertise with Esri's Utility Network, in coordination with a deep understanding of Pidpa's future GIS state, enabled Tensing to provide a client-specific engagement to Pidpa that provides value to the water utility's use of custom applications, advanced analytics, and unique system information in the field.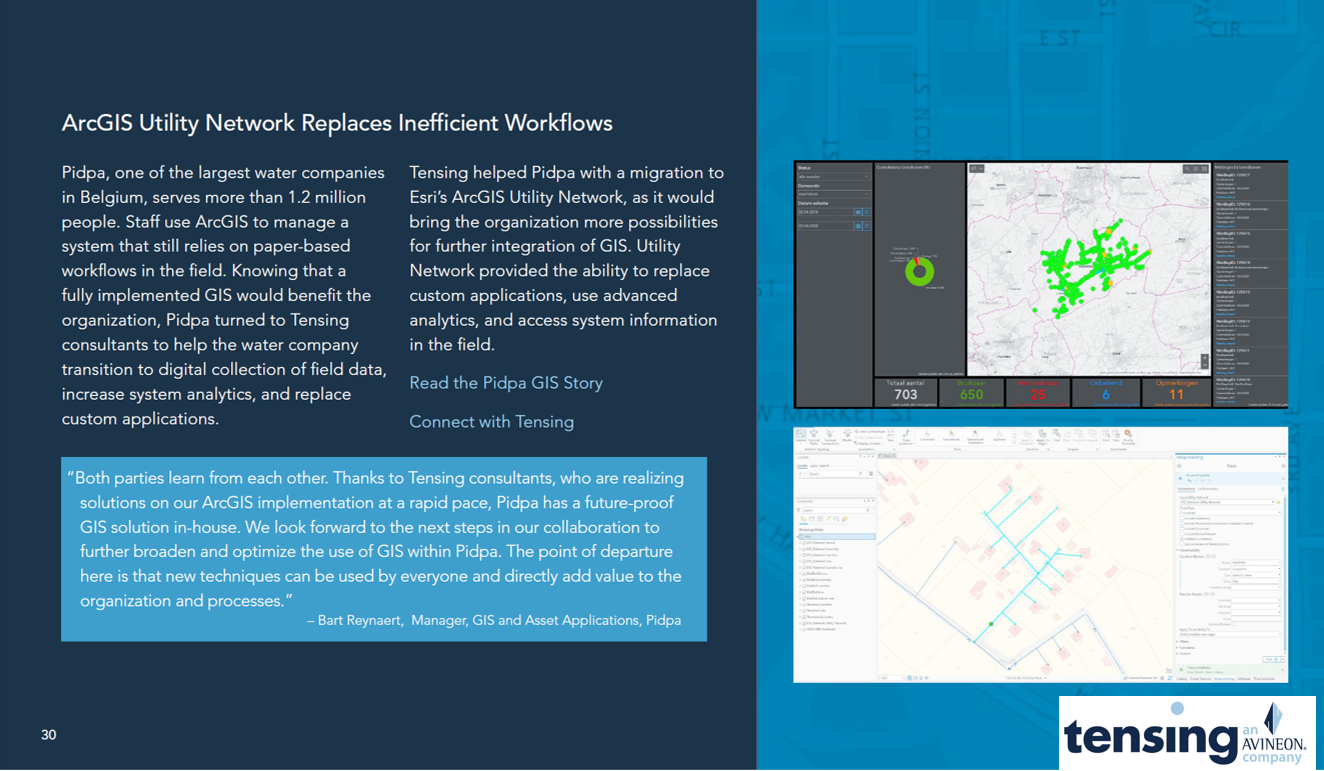 Tensing, part of Avineon's global delivery model, provides premier spatial intelligence consulting across municipalities, gas, electric, and water utilities leveraging Esri-based technologies.
To read more about Tensing's work with the Utility Network and Pidpa, please view the in-depth case study published by Esri. To learn how Avineon and Tensing can specifically apply Esri technology to improve your company, please contact us!