Seek out the definition of innovation and you will find 1001 different formulations. But what almost everyone agrees on: experimentation is an important part of innovation. In the municipal market, I see that the 3d city model is definitely leaving the experimental phase behind . Avineon clients and partners are increasingly realising that functional and 3d go very well together. That a 3d city model is much more than a show model to convince stakeholders of the added value of a project. My name is Hakan Akkurt (Business Developer at Avineon). In this blog, I outline some scenarios in which 3d city models are used in a practical way.
Scenario 1: avoid objections to planning permission
The application for an environmental permit for construction can be delayed due to objections filed by stakeholders. It is also difficult for stakeholders to get a full picture of an object being placed in their immediate vicinity.
A 3d model can help here. Imagine that nearby residents and surrounding businesses can see the future building in 3d. You can thus proactively answer or prevent possible questions and grounds for objection. For example: how visible is the building in my area? To what extent will it create more shadow on my roof (causing my solar panels to generate less energy)? The situation after construction may be much less drastic than concluded on the basis of the submitted plan. This avoids objections and therefore delays in the decision-making process.
Image 1: 3d city model of Groningen with shadows of canal houses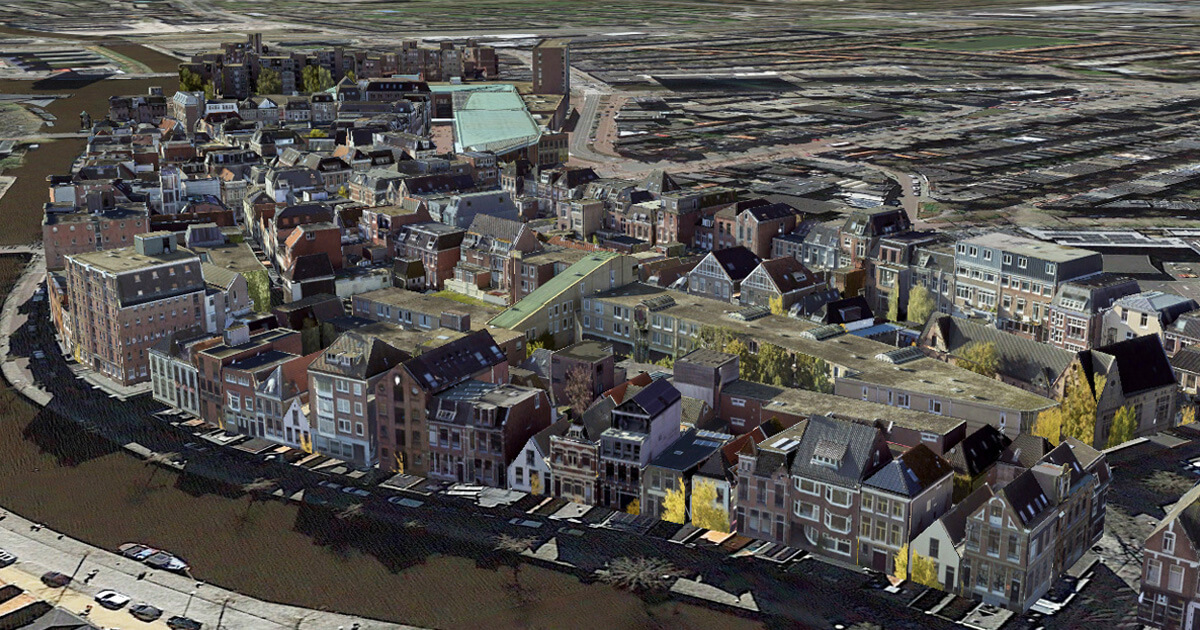 The same technique can additionally be used to help environmental permit applicants as well. Citizens who do a permit check on regularly struggle with the question: have I filled this online form in correctly? Take the example of a shed placed in a garden where it is not very clear where the dividing line between the front and back yard lies. Can the shed then be placed permit-free? If the applicant enters all the required data in terms of geometry as well as literally plotting the location of the shed on his property, it becomes a lot easier to determine whether a permit is required. And the geometric data of the future building can also be easily visualised and linked to the maximum buildable area and other rules the applicant has to take into account.
Scenario 2: promote the well-being of your residents
Public space affects the well-being of your residents and entrepreneurs. But that well-being is not easy to analyse. There are lots of factors that influence well-being levels: sufficient greenery, accessible pavements and buildings and the prevention of heat stress and flooding, to name a few examples. How do you measure this?
The third dimension is very important when measuring well-being. Why? Let me take heat stress mitigation as an example. Suppose you want to analyse whether you have sufficient shade thanks to the greenery already present in your municipality. Then there is no stronger tool than a 3d visualisation. What is the position of the sun at certain times, and based on that, do you have enough trees, and are they in the right place? And which district has the greatest need for new greenery?
Another example. You want more greenery on flat roofs. But which roofs are suitable for this? Even for this analysis, third dimension is indispensable because you have to take into account, among other things, the slope of the roof, a minimum area needed and the presence of skylights.
&bsp;
Scenario 3: deal with rainwater
The pressure on sewers has increased dramatically over the past decade. One of the main reasons for this is the increase in rainwater. Stormwater management is becoming increasingly complex. With a 3d model you can use flood scenarios to gain insight into neighbourhoods and areas where the flood risks are the highest. Flood Impact Analyses, in other words. This has already been experimented with extensively for determining river flood zones. But it can also be used for improving stormwater management. For example, to determine priorities. Projects to combat flooding together with your stakeholders take time. So where do you start: in neighbourhood X or Y?
Figure 2: Sufficient green space is essential in fighting flooding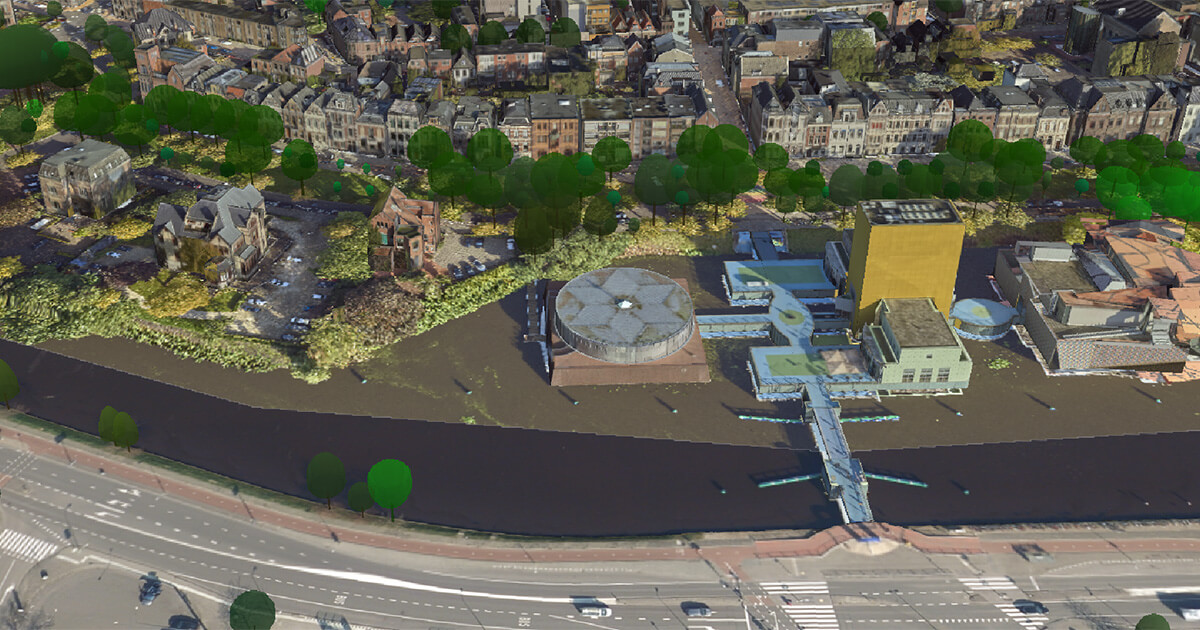 Scenario 4: find the best position for cameras
One final example. Placing cameras by surveillance. How do you decide where to place your cameras? The angle of a camera determines which events you see and which you don't. And this then determines how quickly you take action. Camera position is therefore essential for effective enforcement, especially in the city centre.
The right camera position is preferably not determined or based on trial and error. First, because you don't want your surveillance department to spot certain things too late on a busy Saturday night or during a holiday. Secondly, because moving cameras involves privacy laws. So making a quick adjustment is not always possible. A 3d model can provide insight into the viewing angles and can thus help you get a camera position right the first time.
Would you like to have a no-obligation sparring session about the functional possibilities of 3d city models? Mail or call me!