For utilities of all types, Call Before You Dig (Call 811) systems and related processes are crucial for safety and preventing damage to underground infrastructure. The Common Ground Alliance (CGA), dedicated to protecting underground utility lines and the safety of people, provides best practices for one call centers, facility owners, excavators, locators, project owners, and designers. When best practices for this crucial function are not implemented correctly and governed consistently, the implications can be devastating and may include property loss, injuries, and even loss of life.
Simplifying Processes for Safety and Damage Prevention

Best practices from Common Ground Alliance (CGA)
The CGA Best Practices describe the mapping practices for facility owners and operators of electric, gas, water, sewer, and telecommunications departments at both investor-owned and public or cooperative utilities. These best practices require facility owners and operators to prepare, generate and submit manifests with detailed maps of located facilities in response to 811 tickets received by their one call center.

Avineon's Mark 811 ArcGIS Web Appbuilder Widget, available in the ArcGIS Marketplace

To streamline and standardize these activities for ArcGIS users, Avineon offers a Mark 811 Web AppBuilder widget. This widget enables employees and contractors to mark up (document) the located facilities using an electronic map, and generate manifests for submission to the appropriate one call center. This simple to use tool extends the power of your organization's GIS to include 811 functions and provides a methodical workflow to standardize and manage these activities. This configurable widget is available to download, at no cost, from the ArcGIS Marketplace.
Example Process Improvements and Efficiencies
Loudoun Water provides drinking water and wastewater services to over 75,000 households in Loudoun County, Virginia, and has been using this widget since early 2019. Loudoun Water maintains over 1,250 miles of water distribution pipelines, over 950 miles of wastewater collection system pipelines and a growing reclaimed non-potable water system.

Loudoun Water contracted Avineon for professional services for the implementation of the Mark 811 widget in late 2018. Today, the widget is successfully used by users throughout Loudoun Water.

Leslie Plazio, the Manager of Inspection Services at Loudoun Water, shared-
"The use of this widget over the last three quarters for over 11,000 manifests has simplified our business process while documenting our fieldwork using mobile devices. This tool improved the user experience for our Utility Protection team and saved the processing of each 811 tickets by a couple of minutes at a minimum, adding to our overall efficiencies."
Celine Yang, the GIS Analyst at Loudoun Water, shared-
"The ArcGIS Web AppBuilder Widget approach to this critical business function has enabled us to deliver meaningful user experiences and functionality to our stakeholders. It provided us ease of deployment and an effective way to operationalize web applications, in line with our web and mobile-friendly digital strategy for utility operations."
Mark 811 Configuration and Capabilities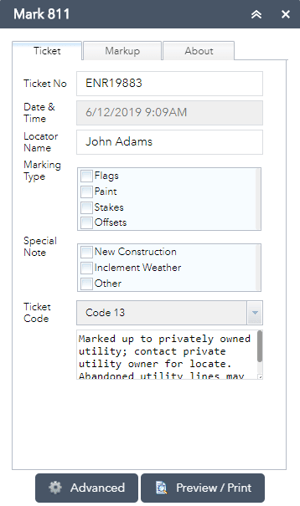 Mark 811 is a ready-to-use and configurable tool for the web and mobile environments. It is accessible using web browsers on desktops and mobile devices and includes the functionality to generate multi-page PDFs with your custom legends, logos, and printing templates.

Using this tool for 811 workflows can:
Improve safety for all parties.
Simplify and centralize historical documentation of all locations.
Improve adherence to best 811 practices.
Automate information sharing.
Optimize the use of resources – (e.g. personnel, time, and money).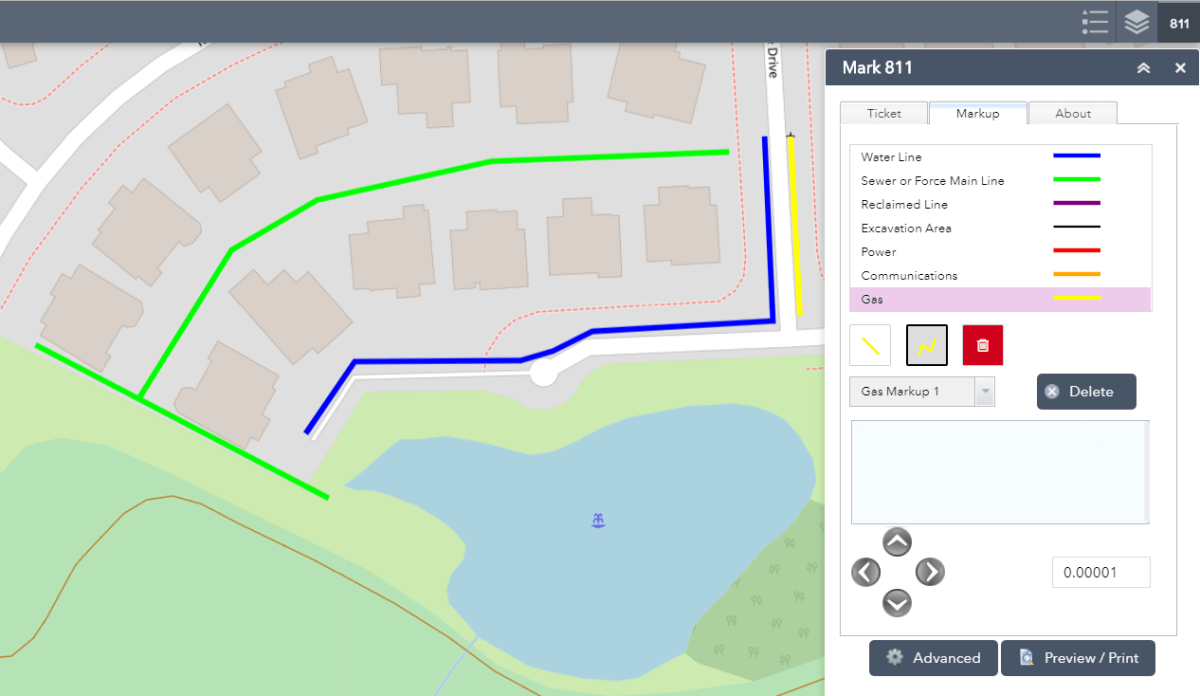 For more information about the Mark 811 widget, please contact us directly or through your Esri Account Manager.