After a period of 2 years of intensive collaboration and innovation, the 3D Digital Twin of the Municipality of Groningen was officially handed over on Tuesday 21 June 2022. The handover took place in the NOK of the Groninger Forum. The digital city was symbolically handed over by commissioner Marcel Klaveringa (team leader Urban Development) to Saskia Gerritsen (corporate director Business Operations), who, as the owner, transfers the management to the "Geo&Data" department (department head Marin Beuker).
With this, the municipality of Groningen is leading the way in creating a new digital era. Together with Avineon (data modeling), Kavel10 (data acquisition) and Future Insight (project coordination and data disclosure), Groningen set about developing a digital model, both above and below ground. This digital twin of Groningen can, as such, be used as a digital testing ground when solving spatial questions. In addition, data analytics can also be carried out.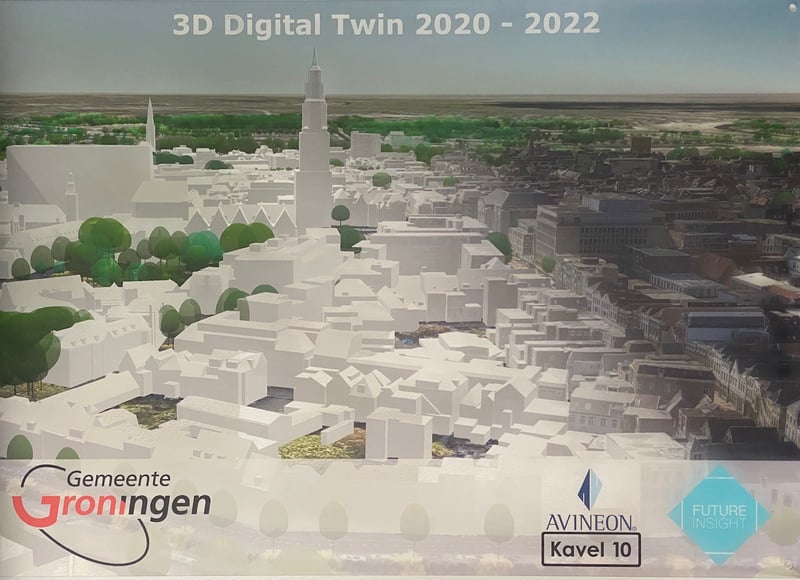 The project
Within this project, Avineon took on the role of data modeling by building CityGML models of buildings, bridges and boundary walls in a variety of detail (from LoD2.0 to LoD2.3). "We modeled underpasses and roof terraces for all neighborhoods within the Municipality of Groningen", says Paul van Alphen, Project Manager at Avineon. "On top of that, we also modeled dormers, roof overhangs, gable stairs, bridges, and city walls for the city center".
The collaboration
Thanks to the smooth and pleasant cooperation between the various parties in the consortium (Avineon, Future Insight, and Kavel10) on the one hand, and the collaboration with and within the Municipality of Groningen on the other hand, we have succeeded in creating a very realistic 3D Digital City that ensures that spatial projects can be executed faster, at a lower cost, and more transparently.
More information
Curious about the 3D Digital Twin of Groningen? Then read the detailed case study here or contact us for more information.